News from Dallas/Fort Worth
Andy Montgomery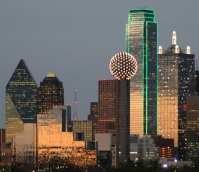 As a first-year chapter president, 2016 passed rapidly. The DFW chapter enjoyed some great events outside of our monthly luncheons. We hosted a successful buyer's seminar for the second straight year. We added two evening social events with other professional associations, the Exit Planning Institute and the North Texas Association of Government Guaranteed Lenders (NTAGGL). To wrap up the year, we had an outstanding holiday party at Las Colinas Country Club that was also in partnership with NTAGGL. I want to recognize and thank the DFW chapter's 2016 affiliate director, Brett Stacey of Wells Fargo, for all his help. His efforts made the buyer seminar and both socials not only possible, but successful.

We also had some dynamic speakers at the monthly luncheons addressing topics including business alignment, insurance, customer delight, NLP and others. This fine roster of great speakers was lined up by our departing chapter vice president, Don Hankins. Don has been a tireless TABB promoter and officer at both the chapter and state levels for many years. Because of Don's quiet and consistent support, my role as DFW president was deceptively easy. Many things in the chapter happened as if by magic. Thanks, Don, you have been awesome for TABB for more years than I know.

Someone else who has been awesome for TABB at both the chapter and state levels is John Willems. In John's case, it's many years that I do know, thirty. That's right, for 30 years John has acted as general counsel for TABB. He has provided guidance and counsel to TABB to keep the association and its members on the straight and narrow – and get paid! John has been instrumental in developing our member forms, developing and delivering educational courses, as well as mentoring brokers who just call and ask for guidance. TABB could not ask for a better legal partner than John.

The extension of my gratitude to Brett, Don and John illustrates that TABB is dependent for its success on member volunteers. We have very little paid staff, and it is only through the vision and involvement of our membership that we grow and evolve. There is always more to be done, and I encourage all members to engage with TABB in 2017.