News from Austin
Jeff Elder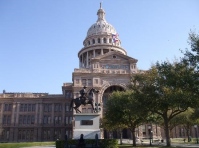 The Austin chapter had another successful year in 2016 under the leadership of Scott Cronk. Scott served two consecutive years as the president of the Austin chapter. We thank Scott for his commitment and service.
The new 2017 Austin board is as follows:
President – Jeffrey Elder
Vice President – Clarence Griggs
Secretary – Lou Clark
Treasurer – George Giles
At Large Director for Affiliates – Mark Avery
At Large Director for Brokers – Mike Miller
The Austin chapter was fortunate to have some great speakers about various industry topics during 2016 which contributed to the robust attendance of 20 or more attendees at each meeting. These meetings are fantastic sources of information and even greater for networking opportunities. Many deals get done between the many business brokerage professionals who attend these monthly meetings. In addition to speakers, the chapter offers meeting sponsorships for a 5 to 10 minute company pitch on its product or service.
Every third Thursday of each month, the Austin TABB chapter meets at Texas Land and Cattle Company at 14010 North US Highway 183, Austin, Texas 78717. Meetings start at 11:30 and end at 1 pm. The first meeting of 2017 was on January 19. The topic focused on business networking with speaker Artie Berne of ArTex Funding. Our next meeting will be on February 16. Come and join us!
Austin also hosted this year's TABB state planning session on January 20 at Texas Land and Cattle Company.